Frank O. Gehry, Walt Disney Concert Hall, 2003
The Walt Disney Concert Hall (1987-2003) in Los Angeles designed by the architect Frank O. Gehry is worth seeing. With this new building Los Angeles became more attractive. In this instance we can relate to the "Bilbao-Effect". It means that with the assistance of architectural and spectacular buildings, cities or districts will become a bigger revaluation. Like the Guggenheim Museum in Bilbao it is considered as a masterpiece.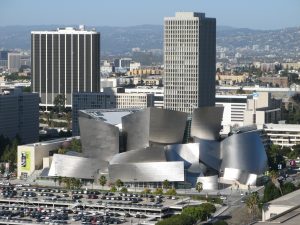 Walt Disney Concert Hall and surrounding area looking from Los Angeles City Hall.
Date: 16 December 2006
Source: Transferred from en.wikipedia to Commons.
Author: Photographed and uploaded by Geographer at en.wikipedia
The concert hall is conceived as part of the cultural hub in the center of downtown Los Angeles. It has its origins in May 1987, when Lillian Disney, Walt Disney`s eighty-seven-year-old widow, offered a gift of 50 million dollars for the city to build a new hall for the Los Angeles Philharmonic. The goal was to create a world-class concert hall with great acoustics. Today the Disney Hall is known as one of the best concert halls worldwide. Hans Scharoun's Berlin Philharmonic Hall, one of the most renowned halls from the mid-century, played a big influence on Gehry`s design. Both buildings do not only look fascinating, but also function well.
Standing in front of the building you will recognize a morphology typical of Gehry. It looks like a ship with its giant, rounding shapes which remind us of sails. The shapes follow with their wave-like curves a musical and nautical pattern. Movement always plays an important role in Gehry's buildings. Originally the exterior was to be covered by pieces of stone, but the ongoing pressure of costs as well as the success of Bilbao`s titanium exterior led Gehry to switch to stainless steel. The concert hall was built with the help of computer software – developed for the French aerospace industry – named CATIA. It had been invented to create construction documents for airplanes whose shapes had complex curves not unlike the ones Gehry was designing.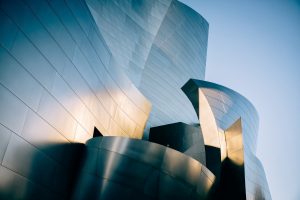 Walt Disney Concert Hall
Date: 14 April 2016
Source: https://unsplash.com/photos/3Ijt7UkSBYE/
Author: Ashim D'Silva
Disney Hall is expected to help revitalize the city`s downtown district and lift its cultural profile. This new concert hall helps to increase the cultural self-coincidence of Los Angeles. Walt Disney Concert Hall is widely regarded to be the most astonishing masterpiece of public architecture ever built in Los Angeles.
Frank Gehry is known for his deconstructive architecture.  He was the first architect to use cheap materials as plywood, corrugated metal and chain-link. His declared goal is to build something beautiful out of junk. He propagates this approach as 'no-rules-architecture' respectively 'cheapscape architecture".
His buildings always look as if they were unfinished or not from this world. Gehry said: "I guess I was interested in the unfinished – or the quality you find in paintings by Jackson Pollock, for instance, or de Kooning, or Cezanne. That look like the paint was just applied. The very finished, polished, every-detail-perfect kind of architecture seemed to me not to have that quality." His architecture style is affiliated with the Deconstuctivism. Most of his buildings display an influence of the visual arts. But before Gehry starts to design the final three-dimensional construction with CATIA, he first draw all his ideas in a sketching book. One of these several sketches become then the essentially design, with which he begins to create models out of wooden bricks, cardboard, an other stuff.
Sources:
Ragheb, J. Fiona (ed.): Frank Gehry. Architect, New York 2001.
Goldberger, Paul: Building Art. The Life and Work of Frank Gehry, New York 2015.
Webb, Michael: Symphony. Frank Gehry`s Walt Disney Concert Hall, New York 2009.
Muschamp, Herbert: Architecture View; Gehry`s Disney Hall: A Matterhorn for Music, in: The New York Times 1992.
Taschen, Laszlo (ed.): Moderne Architektur A-L, Köln 2010.
Author: Yannick Bemtgen