Griffith Park, after 1896, Los Angeles
This short insight of our trip to Griffith Park concentrates on the Observatory, opened 1935. Unfortunately there was no possibility to go and see the inside of the Observatory and visit other architecture in Griffith Park.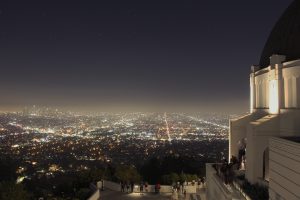 We saw Griffith Park, especially Observatory a few times during our stay in Los Angeles. It was possible to have a look at them from the basin far away and relativley close at Hollywood Hills . The fact that this park is visible from a lot of different parts of the basin underlines the signifiance of the park for the city.
Arriving at the Observatory we parked our cars at a car park 15 minutes footpath away. We walked a curvy path which directed our attention towards Observatory. The far reaching view over Los Angeles basin opened up while walking around the Observatory like a curtain. This view differed from those we saw in other architecture in the fact that it was framed by nature. Most of the lookouts we had over Los Angeles were framed by buildings from neighborhoods. Compared to the environment of Griffith Park there were no buildings that are on the same level like the Observatory. This framing cause that the observer may feel like he is the only one looking at the city, what indicates a romantic motive. Of course there are a lot more viewpoints in the area with different directions where one find these conditions. Taking the perspective from the basin of Los Angeles one can interprete that the Observatory is enthroned on the peak of Los Angeles. This peak may also be interpreted as a boat which is anchored in front of Los Angeles to invite their inhabitants to have a good time and relax, which was the ambition of Griffith, as well as his desire to make science more accessible to the public. Although this place was more touristic then any other place we visited  the last evening watching the sunset was calm und peaceful. Unfortunately  it is not possible to come to a decision according to the thesis about the mysticism in Griffith Park. Despite that the atmosphere during dusk and sunset can be interpreted as spherical.
Jasmin Roth
http://www.griffithobservatory.org/about/history.html