Segel House by John Lautner
John Lautners Segel House is situated directly on the beach in Malibu.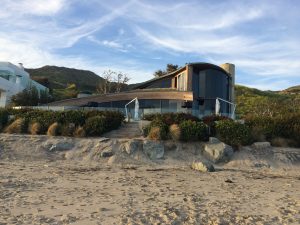 The entrance of the privately owned home is on the Pacific Coast Highway making it difficult to view the house, due to constant traffic on the road.
Through a public beach access visitors can view the back of the house, which opens onto the ocean. The stretch of beach onto which the house looks has only been open to the public for a short time.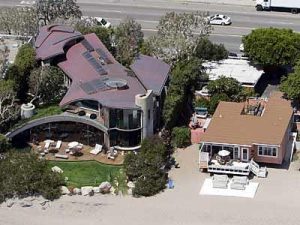 The length of the house is hidden from view by trees and the homes on neighboring properties. The size of the house, which is placed diagonally on the lot, is only imaginable when viewing it from above.
John Lautner's Segel House seems to mimic the waves of the ocean it looks upon. The curved form of the roof and the mirrored windows literally reflect the oceans movements. The windows open large views of the beach and ocean, but do not allow gazes from the outside to enter the private living area of the home.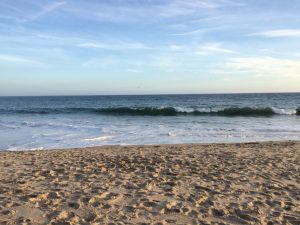 Seeing the building in person it appears much larger than in photographs. The curved form seems very organic. The beach is on a level lower than the house.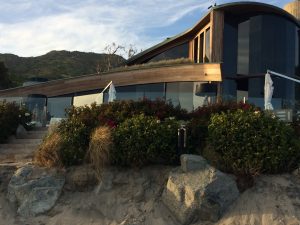 The house is not open to tours from the public which makes a visit to the site a rather frustrating endeavor.
Visiting the house did not give me a much better understanding of the building as all that was visible was the same view one sees in photographs.
Despite not seeing much of the building, photographing it during our sunset visit was satisfying as the different materials of the building reacted to the light in interesting ways. The glass front reflected the light, while the wood seemed to glow and the concrete and metal seemed immune to the warmth of the sunset. Do to the low level of the beach as compared to the level of the house it is quite difficult to get a picture of the entire building.