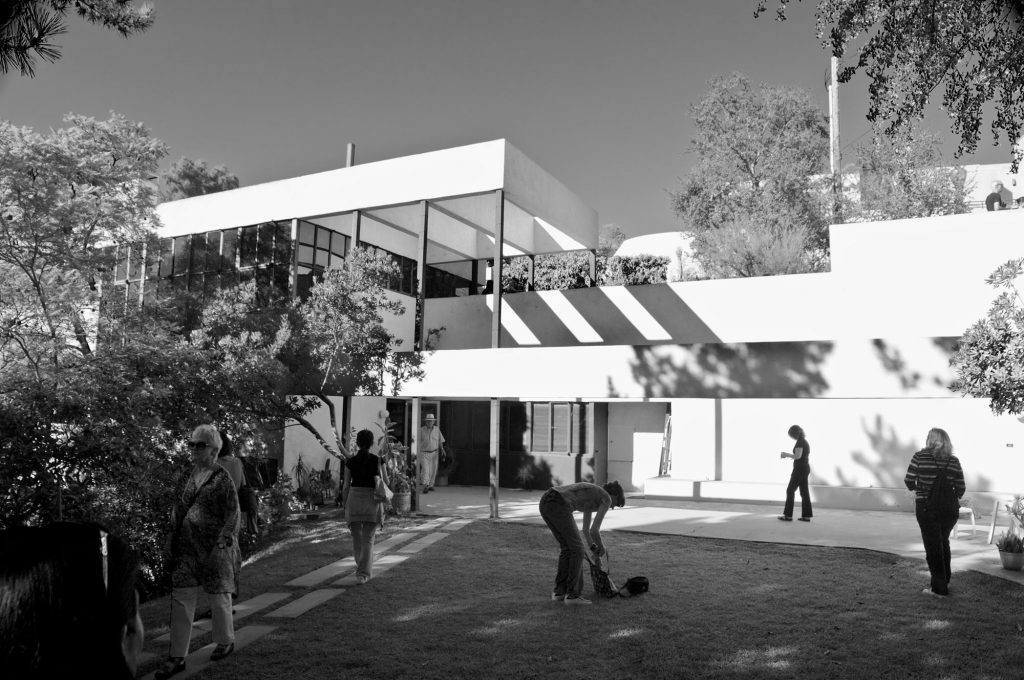 When looking at Richard Neutra's Lovell Health House, built from 1927 – 29 for Philip Lovell and his family, the wildly used "machine in the garden" motif becomes easily comprehensible. As it raises above one of the Hollywood Hill's precipices, with its spiderleg steelwork and the light concrete walls contrasting the roughness of the seemingly untouched subsoil, there is something truly futuristic about it's appearance. But even more than the houses' exterior, the construction technique turned out to be pioneering. Settled on subsoil this difficult – impossible even – Richard Neutra not alone was to design a dwelling for an avant-garde client, but furthermore had to come up with the actual way of construction to implement his vision into reality (Lamprecht, p. 23).
For the first time in (Western) American residential building Neutra  exclusively used prefabricated structural steelwork, which enabled the base framework to be set-up within only four days (Wandel-Hoefer, p. 188). Additionally, by tying the steelwork to the escarpment and adjusting it to the uneven surface, Neutra was able to leave most of the subsoil untouched (Lamprecht, p. 23). Because of the use of prefabricated elements the actual quantity of material used for the dwelling could be minimised drastically (Sack, p. 13). Altogether Neutra did not only work out the most economic method for his clients, but also found a way to represent both the Lovell family's ecologic mindset and the general health and hygiene reformation found particularly in the Californian Modernism in his project.
Especially this last point is crucial in describing Richard Neutra's architectural approach: As part of his cutting-edge methods, he analysed the Lovell's behaviour and lifestyle patterns; for planning the kitchen he even talked to their chef, all in order to gear the residence to their individual needs, as his overall aim was creating a harmonic habitat; ideally with some sort of "psycho-physiological and therapeutic depth effect" (Exner, p. 7) on his clients. Retrospectively Neutra's so-called "biorealism", "his own […] philosophy, a mixture of psychology and physiology, of biology and ecology" (Sack, p. 25) assorted incredibly well with Dr. Lovell's nature-oriented mindset, revealing them to be a perfect match for one another.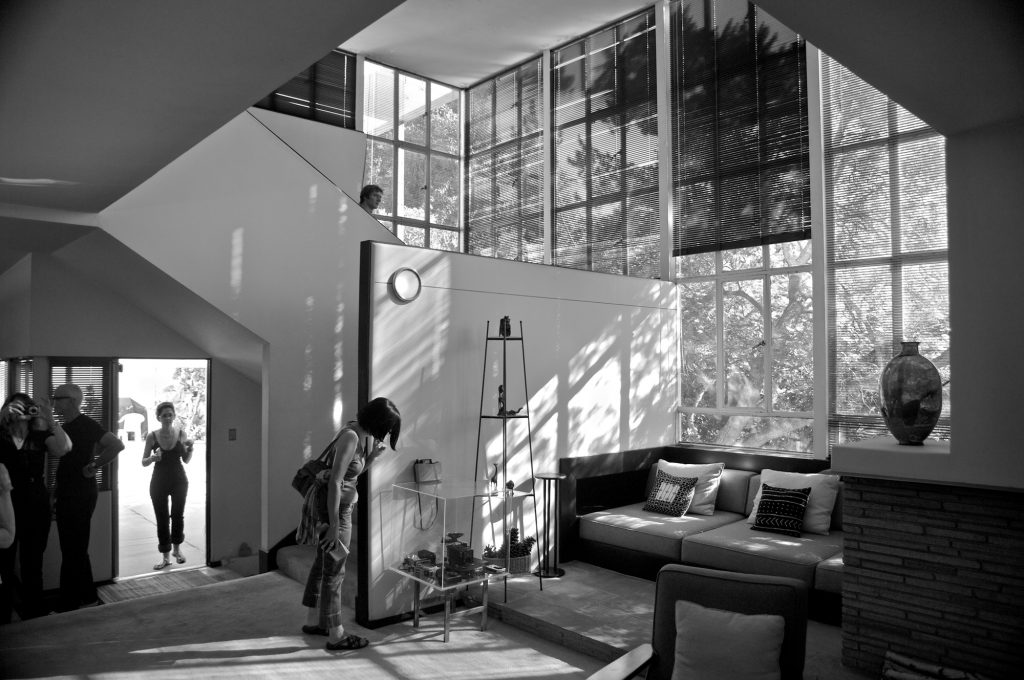 Turning towards the structural steelwork for one last time, it is important to add that Neutra was not primarily about showcasing it as an aesthetic element. By mostly hiding it behind concrete panels and balustrades and additionally not visibly including it in the interiors, it is easily observed that he was prioritizing modularity, regularity and a puristic simplicity (Wandel-Hoefer, p. 188f.).
Now to conclude this short perfunctory overview, looking back at the Lovell Health House, what is there to expect from the real-life experience in contrast to the reception of images? As Richard Neutra said himself, the documentation of an architectural phenomenon through photography reveals itself to be a restriction to the sense of vision (Wandel-Hoefer, p. 172). Precisely because photographers like Shulman manage to create remarkably aesthetic sceneries, architecture – just like sculptures – can only be fully experienced in person. Consequently by visiting the Lovell Health House I hope to not only gather impressions differing from Shulman's quite specifically staged ones but to also develop a closer apprehension of Neutra's "biorealism" philosophy. Additionally I'm interested to see if there have been any major changes since Shulman's photographs were taken and to conclude with the most obvious, if what we can actually see of the Lovell Health House is in any way comparable to what we've previously seen in the media.
Sources:
Exner, Hermann: Einleitung. In: Richard und Dion Neutra: Bauen und die Sinneswelt. Berlin und Hamburg 1980, S. 6 – 21
Lamprecht, Barbara: Richard Neutra 1892 – 1970. Gestaltung für ein besseres Leben, Köln 2016
Sack, Manfred: Richard Neutra. Zürich 1992
Wandel-Hoefer, Rena: Zur Architektur Richard Neutras. Eine Analyse seines theoretischen Werkes und der Umsetzung in seinen Bauten, Darmstadt 1989
– M. E. N.