Located in the Venice neighboorhood of Los Angeles, is the Binoculars Building which is a commercial office building.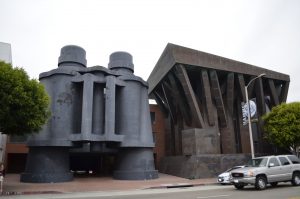 It was designed by Frank O. Gehry a Canadian-born American architect who is residing in Los Angeles, in collaboration with his longtime friends Claes Oldenburg and his wife Coosje van Bruggen. The couple who Gehry collaborated with are famous for their large-scale projects in which they turn everyday objects in huge sculptures. They first made a small model for an academic project in Italy in the form of binoculars but it was built in Gehry's office instead.
This building was constructed in 1991 until 2001 for the advertising agency Chiat/Day as one of its headquarters and was originally called the Chiat/Day Building.
Materials such as steel, concrete and cement plaster and gypsum plaster in the inside were used for this building.
The black standing pair of binoculars are only one part of a three-part complex of buildings. Gehry designed two different buildings for this project, one is boat-like and the other one is tree-like. We can see that the building on the left side does look like a piece of a white colored yacht with long cabin windows. The building on the right gives the appearance of trees because of the brown color and branches like roof pillars.
Since you can't gain inside access to the building without having connections, you can still see how this kind of architecture is definitely an eye-catcher. The massive binoculars which are normally considered as an everyday object ties the complex together as a third structure. It turns into an unique and spectacular work space, which functions as pedestrian entrance and car gate as we can already see in videos which are posted online. You can drive through the center of the binoculars in order to get into an underground parking garage.
Today TBWA\Chiat\Day moved out of this building and the public relations group "Ketchum Inc." was renting a part of this building. Nowadays this place is more known for its current tenant, as one of many Google buildings.
Lien Liane Nguyen