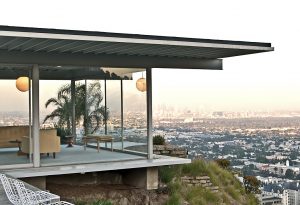 The Stahl House was built between 1959 and 1960 by the American architect Pierre Koenig for Buck Stahl and his family. The structure is also known as CSH #22, after its number as part of John Entenza's 'Case Study House Program' and is one of Koenig's most well-known designs. 1
The bungalow is situated in the hills above West Hollywood and is invisible from street-level viewing, thus making the house the epitome of privacy – despite its walls being made mainly of glass, a typical feature of most Case Study Houses.
The one-story metal, glass and concrete structure builds an L-shaped frame for the house's outdoor swimming pool – a typical feature of California 'living'. All bedrooms as well as the living rooms face the pool, the main focal point of the building. When excluding pool and outdoor deck, the building harbors only six rooms on it's approximately 204,4 square meter space.
Arguably most well-known for its portrayal in the architecture photography of the late Julius Schulman 2, the house is a prototype for modern living. From it's high placement on the hillside, it features a prominent bird's-eye view of the city's lights below. The resident of the Stahl House thereby seems removed from the remaining inhabitants of the city – watching from a distance rather than taking part.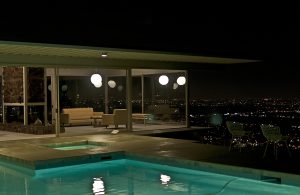 The view and it's implications of grandeur and spectacular views have made the Stahl House a popular site for Hollywood movie productions and music videos, a house similar in style to the Stahl House was also used in an episode of the popular cartoon TV show 'The Simpsons' (Season 21, Episode 1 – 'Homer the Whopper')3.
The architect, Pierre Koenig, was born and grew up in California. The Stahl House is his second project for the Case Study House Program, the first being CSH #21, in West Hollywood.
Today the house is still in possession of the Stahl family, who allow guided tours through the building. This is a possibility we will be taking advantage of on our trip to L.A.
Sources:
1. Smith, Elizabeth A. T., Blueprints for Modern Living. History and Legacy of the Case Study Houses, Ausst. kat., Los Angeles 1989/1990, Cambridge (Mass.) u.a. 1989, S. 69
↩
3. http://archive.blog.modernica.net/inspire-me-monday-architecture-of-the-simpsons/
↩
Katharina Marie Steins