Griffith Park, after 1896, Los Angeles
To conclude the last evening of our excursion we will visit Griffith Park in the northeast of Los Angeles. Due to its staggering sight this park might be a great place to review the experiences we made during a week and to catch one last view over Greater Los Angeles.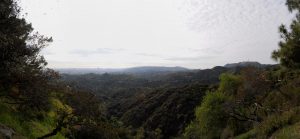 Griffith Park has a size of 17 km² and is one of the greatest urban parks in Northern America. It is located in the eastern foothills of Santa Monica Mountains. High up on Mount Lee the famous Hollywood Sign is located. Griffith Park is built on former Spanish ranch land which was called Rancho Los Feliz. Griffith Jenkins Griffith, an industrialist and mine operator, acquired it after the natives were expropriated. 1896 he donated a part of this piece of land to the city of Los Angeles to re-landscape into a local recreation area for the inhabitants. Griffith had the idea of a city which should become happier, cleaner and finer than it was before and the "wish to pay the debt of duty in this way to the community in which he have prospered." Years afterwards, in 1912 the industrialist bore the costs again for the later built Greek Theater (1929) and Griffith Observatory (1935).
A legend implies that there is a curse of the Griffith Park by a member of the original owner family Feliz called Dona Petronilla: She is told to be a ghost that is responsible for the misfortune or the death of the later owners of the land. The Ghost is described as a woman wearing a white dress. It is claimed that she stays during turbulent nights in the Paco Feliz Adobe (the oldest remaining architecture in the park). Our group will go to Griffith Park in the evening. So we can perhaps meet Dona and some other ghosts that Creepy LA mentions in "The Guide to the Ghosts and Monsters of the Cursed Griffith Park."
To talk about something less uncanny: Griffith Park is also happily combining motifs from nature, aviation and astronomy. The seemingly untouched nature of the park, which appears wild, rough and steep, can be interpreted as an oasis which expresses the longing for the biblical paradise. One could conclude that Observatory and Aerodrome – the latter was closed in World War II – are both technical as well as natural, "back to the roots"- symbols. With motives of aviation and astronomy somebody can reach out for the stars for scientific investigation as well as for the origin of God's creation. Griffith motivation to build this kind of architecture has been the conviction that "if all mankind could look through that telescope, it would change the world". During our visit of the Observatory the double meaning of this look into the sky can be discussed.
Eberts, Mike, Griffith Park. A Centennial History. Los Angeles 1996.
Manuel, Bruno, Mr. Griffith donates a Park, in: Aufbau – Reconstruction, Bd. 13 (1947),  23-24.

http://www.laparks.org/griffithpark/greek-theatre
http://www.griffithobservatory.org/about/history.html
Jasmin Roth